Increase employee productivity with office quiet spaces
Office quiet spaces are a great way to improve overall employee experience and satisfaction. They offer a range of benefits that you can read all about below.
Propel productivity
First and foremost, they provide an area of ultimate productivity away from the hustle and bustle of an office. Some offices are overloaded with noise, such as people having phone conversations, the radio, and general office chat. Quiet spaces are the perfect solution to getting work done without external distractions.
Catering to the office introverts
There is bound to be a whole variety of character types in all offices. And the introverts of the office will most likely thank you for the implementation of quiet zones. It will allow them space to decompress and get away from any environmental stresses.
But then again, the benefits of quiet spaces aren't just limited to introverts, everyone needs quiet sometimes.
Privacy
Quiet zones are fantastic multi-functional assets to have to an office. Therefore, they are also perfect for taking private phone calls, or holding private discussions.
Types of quiet spaces
So, now you can see the benefits of office quiet zones, you might be seeking inspiration on what type. There are a few different ways by which you can inject more peace into your premises:
Peaceful pods
The most popular and innovative type of focus spaces would be the quiet pod. Quiet pods are space efficient, and they can also add to the aesthetic of a modern office.
As you might be able to guess from the name, these pods are soundproof. This meaning that they can provide a focused environment even amidst a busy office.
Outdoor pods
If your office has outdoor space that can be utilised outdoor pods might be the best option for you- especially if you are lacking internal office space. These pods have the same concept as the above, and depending on where you are situated, they could offer an ambient nature-surrounding workspace for your employees.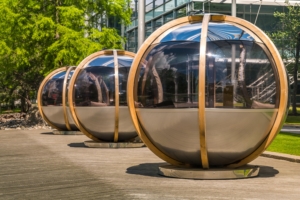 Focus booths
Focus booths are a great way to adapt your space quickly whilst on a budget. Many of these booths are made mobile, therefore perfect for offices experimenting with the concept of quiet spaces as they allow quick flexibility on their placement.
However, focus booths tend to be less acoustically effective than their office pod counterpart, but once set in a quiet and suitable part of the office, focus booths can offer a comfortable place to concentrate.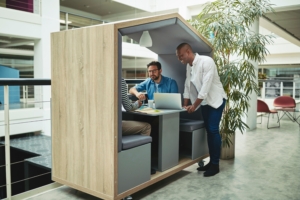 Contact Us
If you are interested in investing in quiet spaces for your office, give us a call on 01494 611 456. Or drop an email to hello@fitout.finance and a member of our friendly team will get back to you. Additionally, should you need a recommendation on equipment, we work alongside a range of suppliers that we can put you in touch with!

https://fitout.finance/wp-content/uploads/2022/07/office-pods-scaled.jpg
1707
2560
Jess Wells-Flint
https://fitout.finance/wp-content/uploads/2021/12/fit-out-finance-logo-narrow.png
Jess Wells-Flint
2022-10-31 09:00:53
2022-10-31 17:23:38
Increase employee productivity with office quiet spaces